Digitizing business processes with mobile applications
Today, many company processes still involve manual work and are mostly paper-based. This includes, for example, the creation and processing of invoices, orders, contracts or performance records. There is an enormous digitization potential here. Paper-based processes can be transformed into a digital format by capturing them via a mobile device with immediate storage in the ERP system.
From analog to digital performance data collection

Today, high-performance mobile devices and modern ERP applications allow processes to be processed exactly where they take place. This way, errors can be avoided and information can be made available in real time. Further processing is much faster as well. Real-time information provides transparency and facilitates monitoring and control. With their intuitive operation and ergonomics, mobile devices also provide a better user experience for employees.
Increased efficiency through mobile performance data collection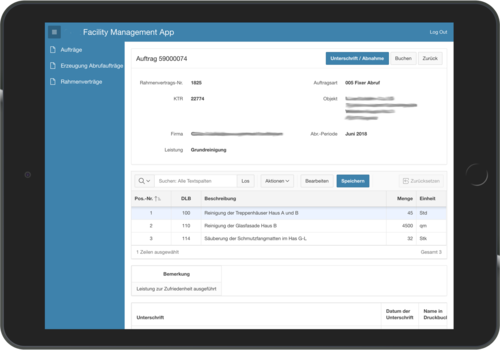 The example of a service provider who invoices its services on the basis of signed documentary evidence illustrates how a digital mobile application can lead to a major increase in efficiency:

The manual recording of services that must be documented to be billed to the client usually takes place at a later date. It is time-consuming and subject to a high error rate. No time sheet may be lost, no activity forgotten or incorrectly recorded later. As a result, there is often a great need for clarification and this may sometimes lead to tensions with the customer. Due to this enormous post-processing effort, many services provided are invoiced with great delay.
The resulting financial disadvantages can be avoided by using a modern digital solution. Digital performance data collection guarantees timely recording of all services provided and ensures a fast and smooth transition into the invoicing process.
The intuitive mobile application for performance data collection only requires a tablet or a smartphone. All order-relevant data is easily accessible on the go. The work performed is documented directly via the mobile device and accepted by the client, and the invoicing process can be initiated immediately thereafter.
The benefits of mobile performance data collection:
Always up-to-date order information for the employees on site
Immediate recording of service provision
Real-time information on the degree of order fulfilment
Significant reduction in manual effort and error rate
Faster invoicing of the service
Increase in liquidity
Strengthening customer relations
Seamless integration with your Oracle ERP software