Oracle Financials Setup Review - compliant with Generally Accepted Accounting Principles
A large number of US-based international companies are using Oracle ERP Software to serve their subsidiaries in Germany. The setup for the German subsidiary is usually determined by either a global or a European setup template. A global or European setup template is not always capable of dealing with all of these specific GoBD (Generally accepted accounting principles) requirements of the German tax authorities. As a direct result, many German subsidiaries face significant issues during their annual audit.
GoBD Compliance

In Germany every company is obliged to comply with the GoBD.

What exactly does this mean?

The "Principles for the Proper Management and Storage of Books, Records and Documents in Electronic Form as well as Data Access" (Grundsätze zur ordnungsmäßigen Führung und Aufbewahrung von Büchern, Aufzeichnungen und Unterlagen in elektronischer Form sowie zum Datenzugriff – GoBD) are a set of criteria, companies have to fulfill when using electronic accounting.

The general requirements are:
Traceable
- Every booking must be documented.
- Business transactions need to be documented progressively and in retrograde: from the receipt to the tax declaration and the other way round.
- The accounting must be comprehensible to a knowledgeable third party within a reasonable period of time, such that this party can obtain an overview of the business transactions and bookkeeping systems.
- In order to understand books and records, it is necessary to create informative and complete process documentation; the same applies to work instructions and their implementation
Complete
- full and gap-free documentation of individual business transactions
- secure storage, protection against loss
- technical and organizational controls (e.g. recoding and plausibility checks, analyses for gaps or repeat items)

Correct
- Archived documents must conform to the original document.
- Presentation up to accounting standards
- It must be possible to track business transactions from origin to processing – authentically and seamlessly
Timely
- Business transactions must be recorded promptly after they occur.
- Recording of non-cash bookings within ten days
- Day recording of bash bookings.
- Recording of periodic bookings by the end of the following month

Orderly
- All bookings must be presented in an individual, factual, ordered and assigned
- They must be immediately legible.

Unmodified
- A booking or record must be demonstrably unmodified.
- No falsifications or deletions that make it impossible to determine which version of the relevant documents is the original.
Ensuring Data Access during a digital audit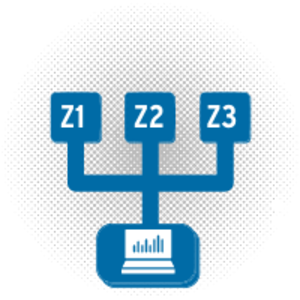 During a digital audit, the tax authorities have far-reaching access rights in respect of your company data.
You should be able, to provide the data demanded during the audit within a reasonable time.

When carrying out an audit, the tax office can use three forms of access:
Z1: Direct Access
(Read Only Access to the tax payer's ERP)
Z2: Indirect Access
(evaluation of the tax-relevant data by machine according to the auditor's specifications)
Z3: Data Medium Provision
(Presentation on a data-storage medium)
The auditor will typically request Z3 access in order to access the data readily through the IDEA® audit software.
This is precisely where our PDG GoBD/ GDPdU Interface Digital Audit - (Standard Audit File Tax SAF-T ) for EBS comes in:
PDG Service: Oracle Financials Setup Review

We offer a review of our finance/ tax setups to ensure they are proper according to GoBD requirements ( GL, AP, AR, FA, CM, E-Tax) to proactively resolve those GoBD-issues.
Once we have reviewed your setup template, we provide a list of recommendations on how to slightly modify your setup template in order to make your German subsidiary compliant. We do of course ensure that the recommended changes are non-invasive and do not jeopardize any of your global business processes and reporting requirements.